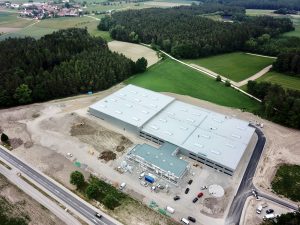 After more than 100 years of tradition and growth, it is time for a change. Space in production and office has become quite tight. Soon, lineo will move to Europes most advanced brush factory. After construction started in 2019, the lineo brush makers are preparing for relocation now.
Artist Brushes "Made in Germany"
As the main construction work has been completed, there is also rapid progress inside the new brush factory. In Fall 2020, Mesko & lineo will shift their production to their new facility. Europes most advanced brush factory covers an area of 10,000 m² equivalents to almost 108,000 ft².
Automation and digitalization will support the companies staff in near future.
The aim is to create a better and more productive work environment. This is most important for all areas of handcrafting of artist brushes. A lot of concentration and accuracy is expected from the brush makers there. A modern workplace with fair working conditions is also a guarantee for the production of fair and sustainable products.
It has been a clear decision to continue production and growth in Germany. Further jobs are to be created in the future. With lineo brushes, artists benefit not only from guaranteed & consistently high quality but also from the stability of a company with a long tradition. This means that jobs at Mesko/lineo are secured in the long term and we can continue to rely on the high quality of the brushes we love.
lineo, fine brushes since 1911