For many years, Elke is already working together with lineo. She is familiar with all different painting styles and even has developed her very own style in watercolour painting. As a professional artist, she exactly knows what artists need. The combination of lineo's excellence in brush making and Elke's application knowledge has resulted in some truly outstanding artist brushes.
Elke Memmler – Water Colour Expressionist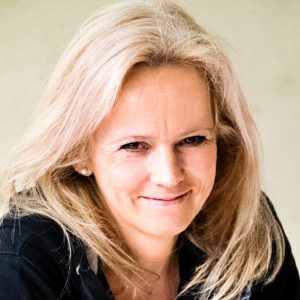 Since 2008, Elke Memmler has been completely dedicated to her art. In her studies, she has been taught numerous painting techniques and enjoyed working with them. Her great passion, however, is watercolour painting. The vibrancy, colourfulness and spontaneity of watercolour is the reflection of her inner self.
Her characteristic style is "watercolour expressionism". Colours are getting detached from the object – without losing it completely. The form changes and as a result, pure the expression remains.
For Elke Memmler, it is not important to realistically portrait what is seen. She wants to show us how she sees the world – with joy and love, but never with criticism. This world is not realism, nor is it romantically transfigured in any way. It is modern. It is colourful and it is a little bit abstract. It refers to the object but is never photographic.
Honourable Mention – Pink and violet tulips
Elke Memmler received an honourable mention at the International Masters of Watercolor Alliance – 2nd Universal Watercolour Exposition 2020.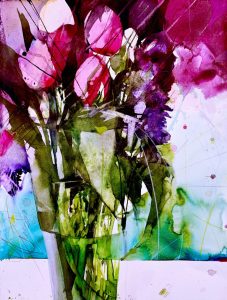 "A picture is like a child, one receives, carries, loves, gives space and lets it out into the world and yet it will always remain a part of the heart – as well as this picture with the title "pink and violet tulips".
It is this magic moment where artist and model enter into a dialogue, there is only the model, the paper and the artist. These atmospheric, invisible vibrations that create a painting are unique and unrepeatable. The painting is a mirror of the moment and also a part of the soul of two individuals (model and artist) and therefore always unique and an absolute unicum.
 
It is not my wish to reproduce reality in a photorealistic or even hyperrealistic way, but rather to capture the vibrations of the moment. I then work with abbreviations (a tulip always has the simplified form of an egg) in a form of pictograms, modern, colourful and inviting.
The viewer should be captured with the striking representation for the first moment and then in the second moment be captivated by the richness of detail and abstraction which can only be seen when looking closely – a modern picture."