The central values at lineo are tradition and innovation. Staff are consciously aware of our long tradition. Still, innovation has always been part of this leading brush factory. To lineo, innovation means to constantly adapt the entire company and its processes to market changes and constantly developing new products. The mutual target of lineo and us is long-term customer satisfaction and retention.
Core values at lineo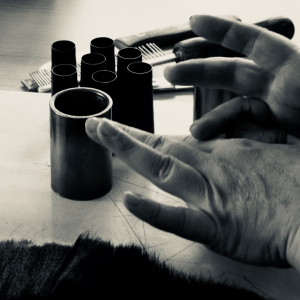 Current examples for their innovative strength are the lineo black line synthetic series and the lineo mini brushes. Both, new and existing products are constantly tested. The brushes get tested until they meet the requirements of the users. In order to stay ahead of competition, it is important for lineo to closely work together with experienced artists and specialists.
The consistently high quality of lineo's range of products is ensured since decades. This is the reason why lineo brushes are appreciated internationally. The entire organization and all of the operational processes are aligned to this core value. This starts with the entire manufacturing process, including procurement and production and ends with the distribution of this unique assortment of brushes.
Of particular importance are the materials that are used to produce lineo artist brushes, cosmetic brushes and dental brushes. Out of conviction, brush makers at lineo only use selected fine hair, such as  Kolinsky red sable hair, squirrel hair and high-quality synthetic fibres for the German production. When selecting the handles, they also rely on the quality of the wood which is used, as well as on the high-quality of the finishes.
All lineo brushes are mostly made by hand in their factory in Germany. Even lineo school & brushes for hobby-painting are produced by trained brush makers on modern machines. To ensure the high quality of our brushes, all lineo employees are regularly getting trained. The final inspection of the brushes is always done by a master hand.